Wow, what blessed, lucky people we are. Within a week we raised the money we needed to be able to go to the Costello Conference in Manchester! We can't thank you enough, dear people. This means so much to us. It's so wonderful to have your support.
We've booked the tickets and made hotel reservations.
Now we have to take a good look at what else needs to be arranged. Because travelling with Vera is not standard travelling.
She may be 3 1/2 yrs. old, but she is not walking by herself yet. This means we need to be able to get all the way to the plane with our custom stroller (fortunately, after extensive communication with the airline about how small we can fold it down, the stroller will be considered as a wheel chair).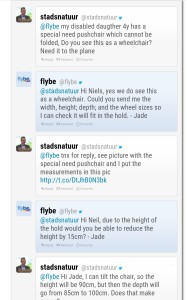 We've also requested a letter from our physician to be able to bring her medication. Because Vera cannot be without her medication (for her stomach, heart, airways and sleep) we need to keep her medication in our carry-on luggage. We cannot risk losing the medication in checked luggage. But all of Vera's medication is liquid and these days liquids are not looked upon favorably on air planes. Luckily, with the physician's letter and correct labeling we are allowed to bring her meds on board. But we may have some interesting conversations while going through customs.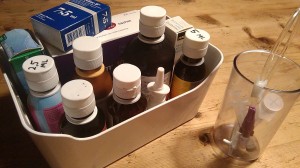 And then there's Vera's food to consider. All her nutrition goes through her Mic-Key button (feeding tube that goes directly into her stomach). We make her food ourselves by using a blender and making smooth purées. It is hard to bring a large supply of purées because they might go bad. But if we bring them frozen, it may not thaw in time on the short flight and we don't want to risk that. So now we are contemplating whether we should bring the very heavy blender with us to the UK (as well as a converter) or not and I am also experimenting with creating prefab food by blending dry foods such as muesli and freeze dried meals so we only have to add liquids later. That way we won't need to bring appliances. I'm sure we'll find a way to make it work, we still have a month of preparation time.
And finally, we have to talk to the hotel about the bed we need and whether we can use a refrigerator for medication. In short: this trip will be anything but standard! But for the most part we are very much looking forward to the conference.
We look forward to meeting up with other children and adults with Costello syndrome again and with their parents and siblings. To exchange experiences and be amazed at the similarities in physical appearance of all the people with the syndrome like they could all be related. Have a look at Costellokids.com. And of course the substantive and educational lectures and conversations with themes such as heart problems, behavioural issues and growth differences. Mieke is especially excited about the fact that she will be flying on an air plane 😉
We will keep you posted. And again: thank you for making this possible for us!